Bull Carpaccio (PDO* from Camargue) with New Harvest Olive Oil and Fleur de Sel from Camargue
---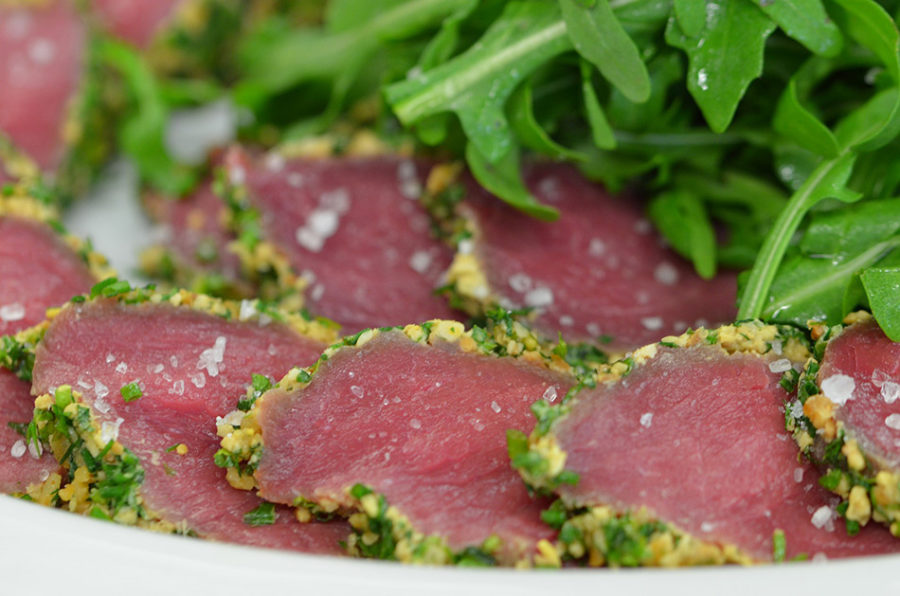 Pairs perfectly with: Capitelles Rouge
Ingredients: :
500g PDO* bull from Camargue (chuck, topside, steak…)
200ml PDO new harvest olive oil from Baux de Provence
Fleur de sel from Camargue
Coriander seeds
Ground black pepper
Espelette pepper
---
1. Choose a thick piece of meat and cut it lengthwise in the direction of the vein 5-6cm apart.
2. Brush the pieces of bull meat with the new harvest olive oil from les Baux de Provence, dust the meat with Espelette pepper, black pepper and coriander seeds crushed in a mill.
3. Let it marinate in the refrigerator for at least 30 minutes.
4. Brown the meat quickly without burning it on a high flame in a hot pan with a dash of olive oil.
5. Roll the meat in cling film, shaping it like a sausage, and freeze for at least two hours to harden the meat.
6. Cut very fine slices of the meat, coat them with olive oil and sprinkle fleur de sel, crushed black pepper and coriander grains.
Wait 10 minutes before serving.
*PDO: Protected designation of origin, in French: AOC