Michel Sarran's Dublin Bay Lobster
---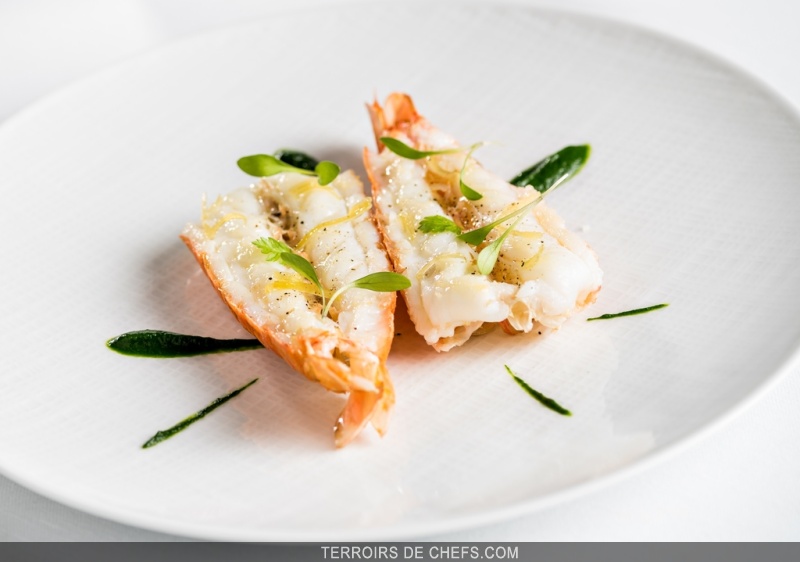 Recipe by Guide Thiriès – a orinal idea by Michel Sarran:
"The fresh flavours of the Dublin Bay lobster marinated with yuzu and ice cream risotto mixed to perfection in this vintage of sea food signed François Collard."
Pairs perfectly with: Galets dorés
---
Preparation:
50g carrots
30g onions
20g leeks (only the white part)
1 clove of garlic
Pepper to taste
12 Dublin Bay lobsters (10/15 per kg)
Separate the heads and tails of the lobsters, peel the tails and then make a consommé with the heads and the ingredients mentioned.
Tempura:
100g flour T.55
1 teaspoon baking powder
1 tablespoon groundnut oil
5g salt
100g ice water
Mix the ingredients in the order that they appear above, refrigerate for about 1 hour.
Risotto:
5g finely chopped shallots
40g rice (Arborio)
White wine
35g finely diced tomatoes
25g finely diced cucumber
5 basil leaves finely chopped
25g whipped cream
15g Parmesan
Sweat the finely chopped shallots, add the rice and cook it till translucent, then deglaze it with some white wine. Slowly add the lobster consommé. Take off the flame, add the tomatoes, cucumber and finely chopped basil and then thicken with whipped cream and parmesan. Adjust the seasoning.
Marinade:
200g olive oil (from Plomari)
50g yuzu juice
Green lime zest, salt and pepper to taste
Mix the ingredients of the marinade.
Finely cut the lobsters lengthwise, marinate them for about 5 minutes.
Mustard cream:
20g cream
1 teaspoon Meaux mustard
Lightly whisk the cream, add the Meaux mustard, season it.
To finish:
2 mini courgettes
2 mini carrots
Coat the mini courgettes and mini carrots in the tempura batter along with half a lobster, and fry at 180°.
Plating:
4 rectangles of puff pastry (15×1.5 cm) baked between two baking trays
12g caviar d'Aquitaine
Salad leaf, dill, fleur de sel (from Camargue)
Pour the marinade in a plate, place a rectangle of puff pastry then a pastry cutter of the same dimensions. Garnish with risotto, place 2 marinated lobsters on top of it along with a streak of caviar.