Red Mullet Filets Roasted with Olive Oil from Picholine, Fleur de Sel, Brunoise Garlic and Ribbons of Raw Courgette Skin.
---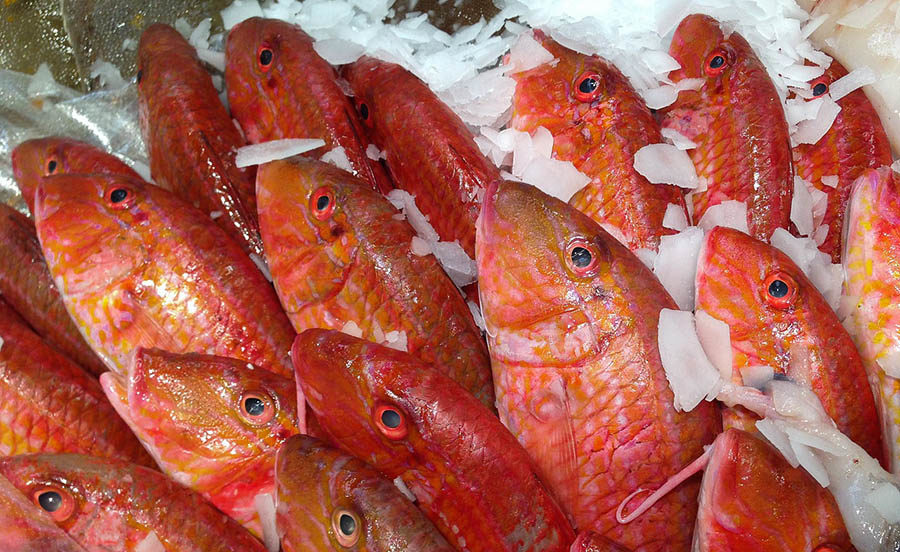 A recipe of the restaurant Le Spinaker at Grau du Roi for Terre d'Argence Blanc
www.spinaker.com
---
1. Gut and clean (or have it done) red mullet filets (300-500g per piece) keeping the skin aside.
2. Brunoise the pink garlic (with the sprouts removed) and put it in a pot with Picholine olive oil. Take small courgettes (in this recipe we will only use the skin, the rest can be used for another vegetable dish or soup).
3. Slice the skin with a mandoline into fine spaghetti-like ribbons, only once for each part of the skin. Mix it in olive oil with some fleur de sel.
4. Arrange the red mullet filets with a lot of olive oil in a dish (it will be used as a sauce at the end) and lightly coat them with the brunoised garlic.
5. Put in a pre-heated oven at 200° for 4 minutes. Place the courgette skin ribbons in the centre of the dish.
6. Place the courgette skin on top of the filets in the shape of a rose. Coat it with the boiling oil. Baste it with the juice of one lemon slice, a little fleur de sel, a touch of ground pepper, and a little bit of fresh basil cut up with scissors.