Tuna Tartare
---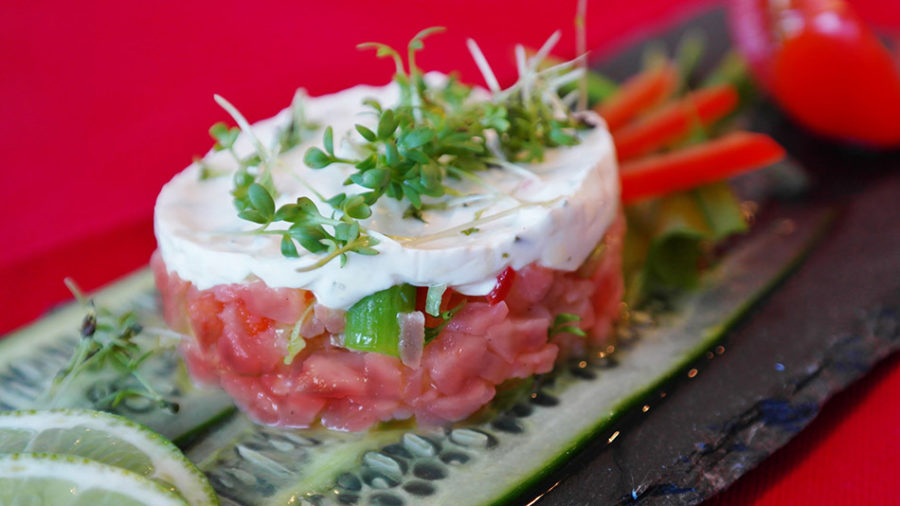 An original recipe by Alain Senderens for Galets Rosés
"A simple dish that transports you to the seaside, seasoned and spiced the way you would on vacation…. You must find a fitting wine that has character to do it justice."
Ingredients (serves 4):
400g fresh tuna
Zest of 1 organic, untreated lemon
2 tablespoons of finely cut pink ginger
1 big spring onion
2 tablespoons finely cut capers
1 tablespoon finely chopped parsley
1 tablespoon finely chopped coriander
2 tablespoons finely chopped Malossol gherkins
Salt, pepper
Tabasco
2 tablespoons sliced green of the spring onions
---
1. Cut the tuna in small cubes.
2. Blanche the lemon zest, (plunge it in boiling water for 2 minutes), pat it dry, and chop it finely.
3. Peel and slice the onion.
4. Mix all the ingredients except the tuna. Add salt and pepper. Add a few drops of Tabasco, and then the tuna. Mix well.
5. Serve with purslane seasoned with olive oil and coarse salt, and toasted farmhouse bread.