Acidulous freshness and a delicate liveliness
Fleur d'Eglantine gets its name from its acidulous freshness and its luminous colour, reminiscent of the petals of the wild roses that surround our vinyards.
It's a delicate rosé, airy and acidic, which unites floral aromas and crunchy red berries.
AOP Costières de Nîmes
Rosé
Grenache mixed with Mourvèdre and a dash of Syrah
With a touch of Carignan -Depending on the vintage-.
Direct pressing for an airy wine with a delicate colour.
Vinification and ageing done without sulphur for more purity and fruitiness.
A slight addition at bottling to ensure the stability and the regularity of the wine.
Recipe
ideas for
our rosé
wines…
Appearance
Tender and pale like the wild rose (églantier).
Bouquet
Floral (peony) with notes of citrus.
Palate
A fresh and acidic attack.
Aromas of red berries (strawberry and redcurrant) and lozenge for its acidulous side.
Delicate, airy and refreshing, with an aromatic persistence that unites a mineral finish and a hint of salt.
Food pairing
Serve at about 9°C during the aperitif and through all courses of the meal.
Pairs well with fish and grilled vegetables, sweet and salty dishes (pineapple pork, orange chicken), tomato tart.
Ageing
Enjoy now or over two years.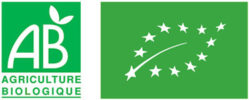 Millésime 2014 – RVF – LES MEILLEURS VINS DE FRANCE 2016
« Fleur d'Eglantine est un rosé fin, digeste, mais avec un fruit savoureux »
Note : 14/20
Millésime 2013 – Robert Parker
« Made from a direct press of mostly Grenache and Mourvedre, the 2012 Rosé Fleur d'Eglantine sports a rich salmon color as well as mineral-drenched aromas of orange rind, citrus and salty sea breeze like aromas and flavors. Medium-bodied and classically dry in style, yet with solid mid-palate fruit and texture, it's a delicious rosé. »
Note : 89/100
Millésime 2015 – RVF Mai 2016
Les plus beaux Rosés de France
Ce rosé développe des arômes évoquant la garrigue, les pêches de vigne juteuse avec un grain délicat et une finale déliée.
Note : 16/20